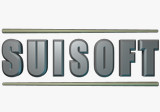 Independent Software
Development
Suisoft Limited

Latest News

13/11/2017 - KitBase 2.0.7.0 Released for Windows
11/07/2017 - KitBase 2 Released for Windows
12/05/2017 - KitBase 2 BETA Released for Windows
01/02/2016 - Retro Rat Race v1.0 Released for Android
11/12/2015 - Retro Rat Race v1.0 Released for Windows
21/06/2015 - Retro Rat Race v0.9 BETA Released




KitBase 2

KitBase 2 is a customisable database designed for scale modellers and collectors.

The database records kits, accessories, paints and references in a structured way so that you can keep track of them using interactive filtering, sorting and printed reports.

KitBase 2 is completely customisable. You can add, change and remove tables and fields. The Views, Screens and Reports can be tailored to your own requirements.






Retro Rat Race

Retro Rat Race is a challenging retro video game for Windows and Android.

Blast your Rat Racer at extreme speed around deviously designed levels rigged with traps and puzzles. A true test of steely determination and razor sharp reflexes.






Gravity Core

Gravity Core is a retro arcade game for Windows.

The game features 50+ levels of intense fighting and daring rescues. Take on dynamic, free-roaming adversaries. No battle is ever the same.



"a simple retro idea with surprisingly deep gameplay", CaptainD
"a solid game and an excellent debut", Indie Game Mag
"A nostalgic joy of a game, if you like a real challenge", Micro Mart
"a flashback to the golden age of gaming", Thirteen1


- Winner of 2008 Bytten Ernie Award: Most Hardcore Game






Starfire - Ares Assault

Starfire - Ares Assault is a completely FREE arcade shooter set to Holst's Mars classical piece.

The alien horde from the Ares Nebula are invading our solar system. The Earth star fleet has been decimated. You are the only hope... as usual.






Bespoke Software Development and IT Services

Suisoft also develops applications and websites for business; primarily with Microsoft Technologies.